Exhibition Schedule - Spring 1999
Visions That The Plants Gave Us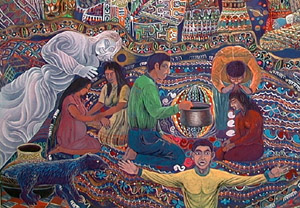 Pablo Amaringo, untitled gouache on paper (detail), 02/10/96,
18 x 24 inches, courtesy the Electric Gallery
Visions That The Plants Gave Us was curated by Dr. Luis Eduardo Luna, Senior Lecturer in Spanish at the Swedish School of Economics and Associate Professor of Anthropology at the Universidade Federal de Santa Catarina in Florianópolis, Brazil. Born and raised in the Colombian Amazon region, Luna is a Guggenheim Fellow and Fellow of the Linnaean Society of London, the author of Vegetalismo: Shamanism Among the Mestizo Population of the Peruvian Amazon, and co-author with Pablo Amaringo of Ayahuasca Visions: The Religious Iconography of a Peruvian Shaman. The exhibition is presented at St. Lawrence University in conjunction with the year-long study of "Healing Across Cultures," a four-year faculty and curriculum development project in intercultural studies funded by the Christian Johnson Endeavor Foundation. During the year 1998-99, several new and existing courses, a faculty reading group, and related cultural and educational programs are presented in which differing paradigms of health, healing, disease, and illness are examined and explored.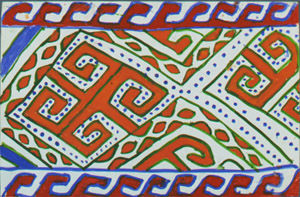 Marlene Lopes Mateus (Cashinahua, Brazil), untitled
gouache on paper, collection of Els Lagrou

Dr. Luna writes:

Visionary plants have been paramount in many cultures for millennia, often mediating the world of immediate experience and the infinite spiritual realms that are believed to permeate all existence. In many cases visionary plants are endowed with intelligence and are considered to be sources of deep and mysterious knowledge, instruments of the divine, fountains of beauty and inspiration, as well as a means to maintain cultural integrity. This is particularly so among many Amerindian cultures, such as the Huichol of Mexico, who have as their primary sacrament the humble peyote cactus (Lophophora williamsii), or as in the case of numerous indigenous groups of the upper Amazon, among which ayahuasca, a visionary vine (Banisteriopsis caapi), and various admixture plants (ex. Psychotria viridis and Diplopterys cabrerana) are pivotal in their conception of the world. It is often by means of the ritual use of visionary plants that shamans undergo their training and acquire their skills. Visionary plants also generate myths and power songs that allow communication with that which is normally unseen and are instruments used to navigate the visionary realm. Among some Amerindian cultures, visionary plants are the source of inspiration of the rich iconographic motifs found in body painting and the decoration of material objects. Songs and visions, as well as visions and dreams, are realms intimately linked, being the manifestation of synthetic experiences simultaneously perceived at many levels. Beauty, manifested in the work of art, often reveals that the individual is in touch with the world or worlds of the spirits. The current exhibition is a journey into the work of contemporary artists who, either as members of indigenous Amerindian groups or because they have been in one way or another in close contact with them, have been influenced greatly by their experiences with visionary plants.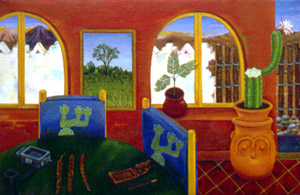 Donna Torres, Smoke to Snuff in San Pedro,
oil on canvas, courtesy of the artist
| | |
| --- | --- |
| Artists represented in the exhibition: | Lenders to the exhibition: |
Special thanks to the Cultural Affairs Council, the Hap and Betty Barnes Endowment, and the Office of the Associate Dean for Faculty Affairs for partial funding, and to Dr. Steven F. White.
1999 Festival of the Arts
Circle of Enlightenment:
Tibetan Buddhist Sand Mandala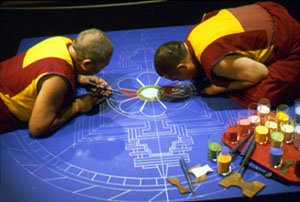 From March 22 - April 17, two monks from the Namgyal Monastery, the personal monastery of His Holiness the Dalai Lama, will return to St. Lawrence University for a three-week residency to create a Tibetan Buddhist Kalachakra Mind (Wheel of Time) sand mandala. The mandala is one of the ritual art forms integral to the Indo-Tibetan Buddhist initiation of the deity Kalachakra as taught by the Buddha circa 600 B.C.E. The mandala consists of five mandalas – Body, Speech, Mind, and with the Mind mandala, the mandalas of Wisdom and of Great Bliss. The Dalai Lama says that the Wheel of Time Mind Mandala is particularly beneficial to people in the West who are beginning to learn about and practice these teachings on wisdom and compassion (Samaya Foundation, New York, NY, 1997).
During the construction and display of the sand mandala, several Tibetan Buddhist thangka paintings and ritual objects will be displayed in the small gallery. Thangkas are elaborate sacred scroll paintings that typically represent Buddhas, Boddisattvas, deities (peaceful or wrathful, meditational) and saints, and other Buddhist doctrine. The exhibition includes thangkas of Chenrezig, the Buddha of Compassion; Manjushri, the Buddha of Wisdom; the Wheel of Existence; Green Tara; the Medicine Buddha; and a Chenrezig Mandala. In addition, malas (strings of 108 beads used to count mantra recitations), kata offering scarves, a prayer wheel, a bell and dorje, and a traditional Tibetan Buddhist altar will be presented with accompanying text panels written by students in Cultural Encounters 212, "Creative Expressions of Healing."

Seven Years in Tibet: Photographs by Heinrich Harrer
March 22 - April 17, 1998

Heinrich Harrer, gelatin silver print from
Seven Years in Tibet
Heinrich Harrer, the Austrian explorer and mountaineer, was interned in British India at the beginning of World War II. He and Peter Aufschnaiter, an engineer and fellow mountaineer, escaped over the Himalayas into Tibet. After two arduous years, they arrived in Lhasa, the capital city. Granted temporary stay that extended to five years, Harrer and Aufschnaiter eventually attained high positions within the Tibetan government. Their collaborations included sewer designs, map making, dam building, and a reforestation project. However, Harrer's greatest source of joy became his friendship with and informal tutoring of the young Tenzin Gyatso, the future Fourteenth Dalai Lama. Since Tenzin Gyatso was being educated by Tibetan monks, Harrer's knowledge of the English language and training in geography enabled him to supplement their teachings. Harrer thus became a link between the young Dalai Lama's isolated world and his future life in the West.
In the late 1940s, Harrer gained access to a Leica camera and some partially exposed film and began documenting Tibetan life. Harrer was one of the few people living in Lhasa in the twilight years of Tibetan freedom who was able to photograph people and scenes from all walks of life. He photographed buildings, ceremonies, festivals, as well as the family of the Dalai Lama. Along with the Dalai Lama, Harrer was forced to leave Tibet during the Chinese invasion in November 1950.
The exhibition includes forty-two black-and-white photographs. Organized by the Heinrich Harrer Project and sponsored by Leica and National Geographic, the exhibition is circulated by the Council for Creative Projects, Lee, MA.

The Spirit of Tibet: Portrait of a Culture in Exile
Photographs by Alison Wright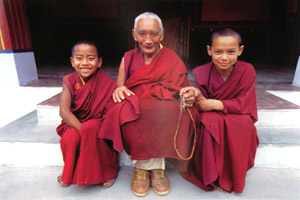 Alison Wright, Dawa Phurba, Tenzin Choezon, and Dawa Dondup,
monks at Dip-Tse-Chok-Ling Monastery, color photograph

This is a visually stunning exhibition of fifty-four framed 16" x 20" color photographs, many of which are digital Iris prints exquisitely printed on handmade watercolor paper. Documenting the Tibetan life in exile throughout India and Nepal, the exhibition is curated by Alison Wright, a professional photographer who has lived and worked in Asia for over ten years. Accompanied with edited stories and captions, many of these photographs are excerpted from the book of the same title recently published by Snow Lion Publications.

The exhibition displays the spirit of Tibetan refugees and shows how they have preserved the best of their unique culture and identity. Aided by their Buddhist faith, the Tibetan people have built productive lives for themselves and today live in thriving communities with a strong sense of purposes—to preserve and maintain the ancient Buddhist tradition that forms the core of Tibetan culture. In this sense, these refugees have managed more than mere survival; they have created a Tibet in exile that is in many ways more truly Tibetan than their occupied homeland.

These extraordinary images include intimate portraits of His Holiness the Dalai Lama, as well as portray ordinary people: the elder Tibetans who have endured harrowing journeys into exile; skilled Tibetan artists creating thangka paintings, Tibetan doctors with their herbal remedies and pulse diagnoses; monks and nuns engaged in study and practice; lay people in their daily lives; and coming full circle to the young people born in exile, but still in their words "with Tibetan hearts."

Alison Wright's photographs capture the indomitable resiliency of the Tibetan people as they have survived the ordeal of exile with humor and determination and with their perspective intact. Their inner strength and courage when faced with the loss of everything they have ever known is inspiring and forms the essence of this project.

The exhibitions and related educational programs are supported at St. Lawrence University by the Cultural Affairs Council, the Richard F. Brush Art Gallery, the David B. Steinman Endowment, the Kathryn Fraser Mackay Memorial Lectureship Fund, and the student Association for Campus Entertainment. Additional funding is provided by a Major Project Grant from the New York Council for the Humanities. During April 12-13, the Associated Colleges of St. Lawrence Valley will sponsor a performance entitled Sacred Music Sacred Dance for World Healing and a series of related workshops and lectures by nine lamas from the Drepung Loseling Monastery. These presentations are supported in part by the Alcoa Foundation and St. Lawrence University, through the University's Alcoa Foundation Cultural Affairs Fund; and at SLU, the Cultural Affairs Council; the Office of Student Activities; and the First-Year Program.

Barnes Endowment Annual Student Juried Art Exhibition

Open to all St. Lawrence students, the Annual Juried Student Art Exhibition is sponsored by the Student Art Union, the Department of Fine Arts, and the Richard F. Brush Art Gallery. This annual Barnes Endowment exhibition is supported with additional funding provided by the Jeanne Scribner Cashin Endowment for Fine Arts.

top of page


All exhibitions and related educational programs are free and open to the public. The Gallery welcomes individuals and groups for guided tours; please call (315) 229-5174 for information.

Gallery hours for Spring 1999
Monday-Thursday
Friday
Saturday
10-8 p.m.
10-5 p.m.
12-5 p.m.
top of page
Exhibitions | Permanent Collection | Educational Programs
Student Opportunities | Course-Related Projects
Contact Us! | Gallery Info | Gallery Home